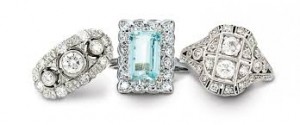 Don't make the mistake of buying jewelry at an overpriced retail chain. The markup on retail jewelry items can be exorbitant. When you buy from a retail chain, you're paying for  the cost of manufacturing, shipping, and a hefty profit for the jeweler.
Why buy from a big-box store when you can have the exact same gold, silver and diamond estate jewelry at prices significantly below retail?
Our showcases feature a wide selection of estate jewelry, pre-owned Rolex and Cartier watches, diamond earrings, pendants, wedding sets and bracelets.
Custom Design and Repair
Did you have something special in mind that you didn't see in our display case? We've designed beautiful custom pieces for thousands of satisfied customers. We also provide on-site cleaning and repair services.
Forget the retail jewelers! Look to us for all your gold and diamond jewelry needs.